BSBI Launches Masterclass Series
On Monday 21 January, Berlin School of Business and Innovation (BSBI) welcomed Professor Marco De Marco from The International Telematic University UNINETTUNO as the special host of the first "BSBI Masterclass".
This new series of events, organised for BSBI's students and staff, aims to bring to the school academics and experts from the world of international business and education. They will share their insights and experience, supporting the institution in its quest to inspire and shape the leaders of tomorrow through innovation.
Professor De Marco, President of the Faculty of Economics of The International Telematic University UNINETTUNO and Dean of Economics at BSBI, hosted the first masterclass. With a background in information systems and management, he presented his academic take on "Disrupting technologies & disrupting innovations".
"Modern technologies are bound to change the way we live and work, as well as the global economy," Professor De Marco told students.
Professor Marco De Marco explaining about Master Class series of BSBI
"Business models based on these advanced technologies are set to displace and replace the current key players, and it is important to be able to read the early signs and effectively prepare to make the most of these changes." Said Professor De Marco.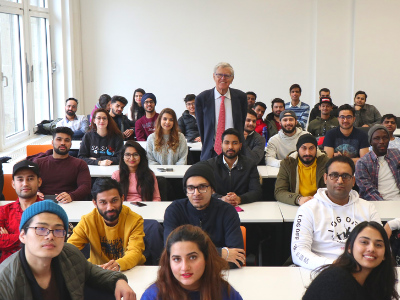 The event proved to be a success and saw the participation of students from all undergraduate and postgraduate courses.
Professor Marco De Marco is talking with BSBI students Alexander Zeitelhack, Academic Dean at BSBI, said:
"We are honoured to host Professor De Marco in our first masterclass event; his insights are of great value to our students."
The "BSBI Masterclass" series is part of a wide range of events organised by the school. "At BSBI we believe that a true learning experience should go beyond traditional teaching in the classroom. With these initiatives, we aim to provide our students with articulate and innovative opportunities to make the most of their studies," added Mr Zeithelhack