BSBI Berlin campus welcomes Hamburg students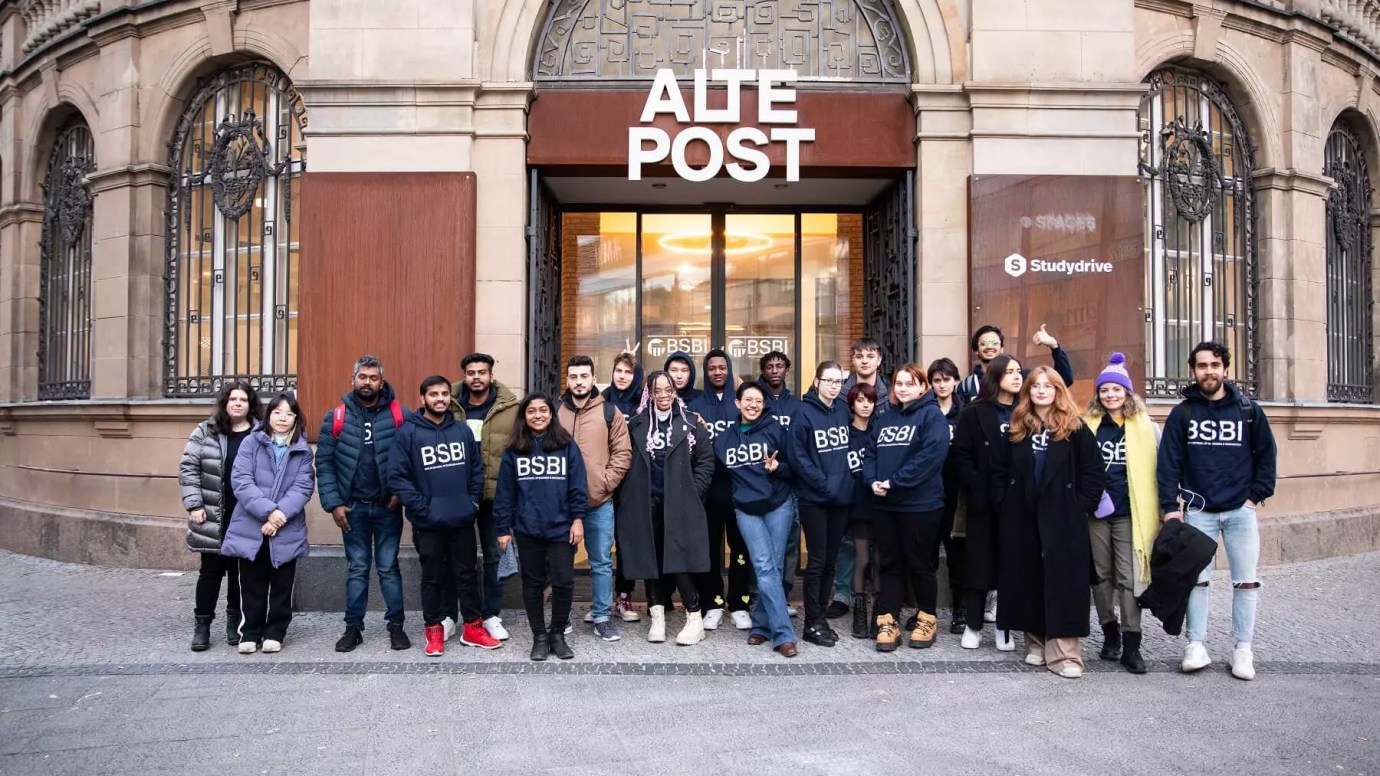 On Tuesday 28 February, a group of Berlin School of Business and Innovation's Hamburg students took a trip to Berlin, organised by BSBI.
26 students from Hamburg campus visited the Berlin campus, which is the headquarters for BSBI. The students were accompanied by Lalit Singh, Student Welfare Officer at BSBI Berlin and Elizaveta Diatlova, Student Services Officer from the Hamburg campus. The students were welcomed at the Berlin campus by Sagi Hartov, Co-Founder and Executive Chairman at BSBI, Professor Dr Kyriakos Kouveliotis, Provost and Chief Academic Officer at BSBI, the student services team, and the student council presidents.
Following being welcomed, the students were accompanied by Sagi Hartov and the student council presidents for the campus tour. During the tour, the students got the chance to see all the floors, departments, meet some members of the academic faculty and experience the infrastructure of the BSBI Alte Post Berlin campus. Sagi Hartov also showed students the state-of-the-art Hologram setup in the campus. After the campus tour, the students participated in the mural drawing activity, where they drew various artworks on the walls of the campus with the theme 'Home for the Global Creative Talent of Tomorrow' to showcase their talents and personify their country in the form of animals, landmarks, and more. After the drawing activity, students had lunch with other students and staff members and got the opportunity to share their experiences with each other.
To make the trip even more productive, BSBI organised a Café Artistique Special Edition session. The session was hosted by Ms Liz Fernando, Head of Creative Industries Faculty and Lecturer at BSBI, and the topic was 'Tales to Inspire: A Celebration of Creative Narration and Storytelling.' The panel for the special session included Mr Andreas Theurer, a Film Director, Screenwriter and Lecturer at BSBI Faculty of Creative Industries, Hamburg, Sagi Hartov and Professor Dr Kyriakos Kouveliotis. The students proactively participated in the session and were able to gain knowledge from the experienced panel members. Before leaving the campus, the students also received gifts from the school.
Before the students returned to Hamburg, the BSBI Student Services team arranged a visit to the Brandenburg gate for students and positive feedback was received. It was a perfect chance for the students to immerse themselves in the BSBI community and get to know how BSBI Berlin campus functions.