What attracts people to study and work in Hamburg?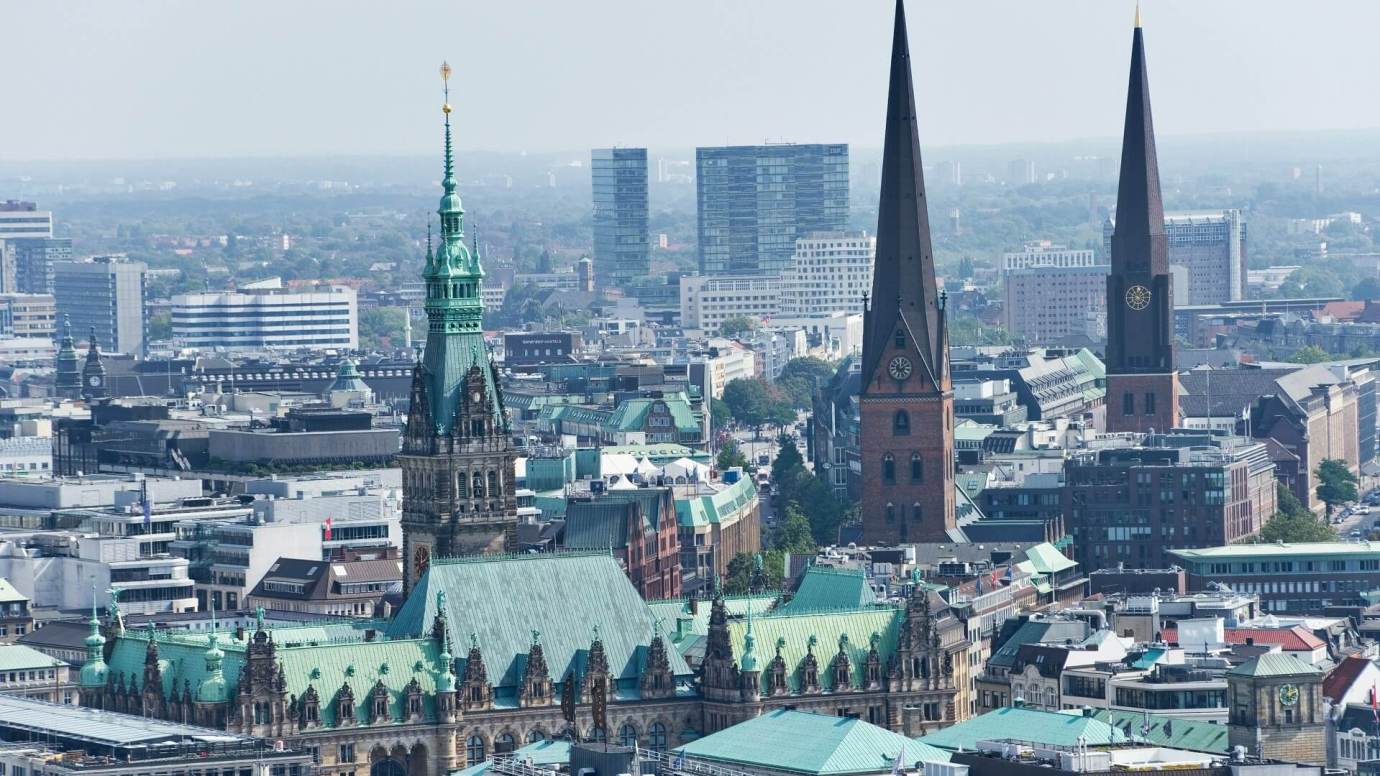 Hamburg is a beautiful, cosmopolitan city located in northern Germany that is an excellent business hub that still has an old-world charm, creating a unique mixture of quaintness and vibrancy.  
Students will be amazed to see that tourist attractions in Hamburg include the spectacular Elbphilharmonie, the world's largest concert hall with unparalleled technology and also the city hall, Rathaus, which is a Neo-Renaissance building. 
The past seamlessly integrates itself with the present in Hamburg which leaves visitors amazed. Studying in this exciting city provides an enriching experience which might just make you fall in love with Hamburg. If you are planning to move there for academic or professional reasons, here are some interesting factors for you.
Winding waterways of Hamburg
If you thought Venice is the only city floating in water then think again. Hamburg with its three rivers: Elbe, Alster, and Bille, have famously earned the name 'Venice of the North'. The city has several waterways and canals that give its picturesque beauty a romantic vibe. 
As a student, you can enjoy living in this modern, picturesque city that has six times more bridges than Venice, each connecting to different waterways. At the very heart of Hamburg is the beautiful Lake Alster which is home to more than a hundred swans. Just imagine finishing a week of studies with a walk along these canals, refreshing your mind.
Exquisite historical sites
Hamburg holds a lot of cultural and historical significance which makes it a wonderful destination for tourists and students. There are many things to see in Hamburg that add to its rich heritage. 
Students can check out the 17th-century townhouses that start from Deichstrasse Street in the Hamburg port. These timber-framed townhouses lined next to the Nikolaifleet canal are a reminder of its past. There's also the church that was built for Saint Nicholas, patron saint of sailors, which in 1874 was the tallest building in the world. 
Complimenting these quaint heritage sites is the bustling city centre, which is the heart of downtown Hamburg. Here you will find eateries, shopping districts and several architectural sites, all nestled around Lake Alster. It's a perfect place to wander around by yourself or with your friends.
Business hubs
Hamburg already has a thriving port industry and has recently been witnessing a rise in start-up culture. These small businesses are getting global attention and raking in good investments. You can see this exciting start-up ecosystem in action at Betahaus, a co-working space which has lately been drawing in many young entrepreneurs. Similar collaborations are happening in several places in Hamburg. 
The largest city in Germany is also an important link in the European supply chain. Hamburg plays a pivotal role in the business and technology sector, with many HQ offices of leading companies in the tech industry in the city. Google even designed its umbrella moniker, Alphabet Inc. based on its Hamburg office on ABC-Straße.
A green city with scrumptious delicacies
Students have to keep their minds healthy and bodies fit to excel in academia and Hamburg takes care of both. This city is filled with various green space, parks and recreational areas and was titled the European Green Capital in 2011. Along with plenty of fresh air and green spaces for long walks, Hamburg also offers fresh and healthy food. 
Being close to the sea and various rivers, Hamburg has a constant supply of fresh seafood, so you will be able to enjoy tasty fish and seafood dishes obtained directly from the source. The city also has the largest fruit-growing region in all of Central Europe. The seaports in Hamburg have always been a trading hub for coffee, tea, and exotic spices, so students living in Hamburg will have the pick of fresh local cuisine.  
If you're interested in studying in the charming city of Hamburg, check out the Berlin School of Business and Innovation, a reputed educational institute with a campus at Otto von Bahrenpark, a place renowned for its historical background. 
The campus is within walking distance from the Microsoft and Adidas offices and has public transport just 10 minutes away. Along with convenience, students will enjoy access to high-quality education at BSBI's Hamburg campus. You can choose among a variety of programmes that are offered in several different areas such as Tourism and Hospitality, Business Management, Animation, Illustration, and Digital Marketing.
BSBI has partnered with other reputable names like UNINETTUNO, University for the Creative Arts (UCA) and Concordia University Chicago (CUC) to offer accredited degrees that will help students fulfil their professional pursuits. 
Click here to find out more about BSBI's Hamburg campus.
BA (Hons) Animation   BA (Hons) Illustration   BA (Hons) Graphic Design   MA Visual Communication
Discover more blogs about our creative arts programmes: