Café Scientifique 17.0: What you need to know about B2B marketing
Event Details
Host: Flavio Andrew do Nascimento Santos, Café Scientifique Coordinator, Lecturer and Dr. Svitlana Samoylenko, Lecturer
Venue: Holographic Theatre, Alte Post Berlin campus
Time: 15:30 Europe/Berlin
Date: 21 November 2023
Register here
The key to unlocking unprecedented business growth lies in mastering the art and science of business-to-business (B2B) marketing. Organisations plan, analyse, and create B2B marketing strategies to ensure they remain at the top of their league. In the fast-paced world of marketing, navigating the ever-evolving landscape of B2B marketing can be challenging. In fact, for every organisation, staying ahead is not just an advantage—it's a necessity.
In our upcoming Café Scientifique session, our guest, Mr. Hans Gerdes, Leader Business Development, Metall-Chemie GmbH & Co. KG, will share insights on how to create strategies to propel your business forward. He will delve into the intricacies of B2B marketing, discuss proven strategies to boost a brand's visibility, emphasize the importance of engaging your audience, and explore how to achieve success through performance-based marketing by focusing on specific metrics and tangible outcomes. Additionally, he will share valuable insights on how to tailor marketing strategies that will resonate with the audience.
The discussion will be hosted by Flavio Andrew do Nascimento Santos, Café Scientifique Coordinator, Lecturer and Dr. Svitlana Samoylenko, Lecturer.
Be part of the discussion, network with industry experts, and gain insights on importance of B2B marketing.
Topic: What you need to know about B2B marketing
Guest: Hans Gerdes, Leader Business Development, Metall-Chemie GmbH & Co. KG
BSBI students can join onsite. Please register here.
Those who are remote can also join via YouTube live stream.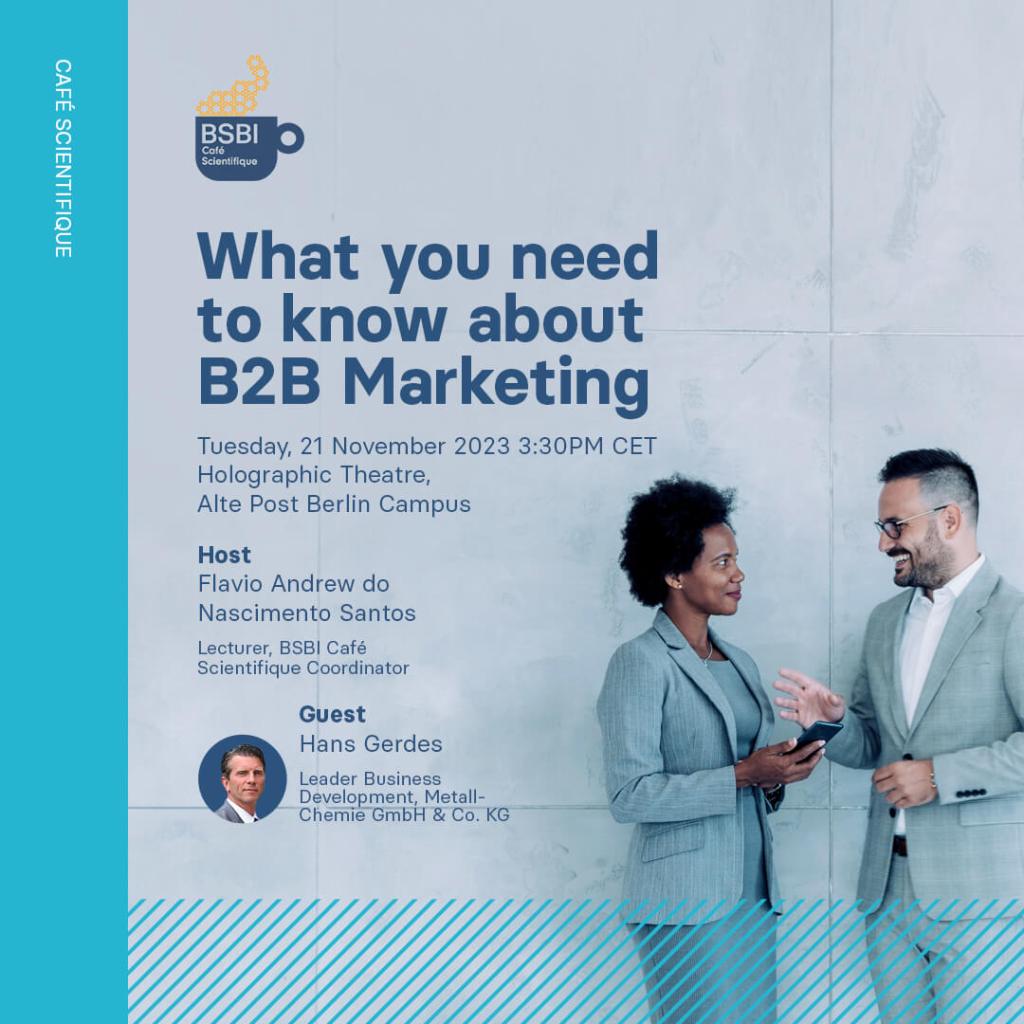 Important: Kindly note that spaces for this event are limited, so be sure to secure your spot promptly.
Reminder: Please be guided by the Code of Conduct for BSBI Events