Pursuing a career in visual communication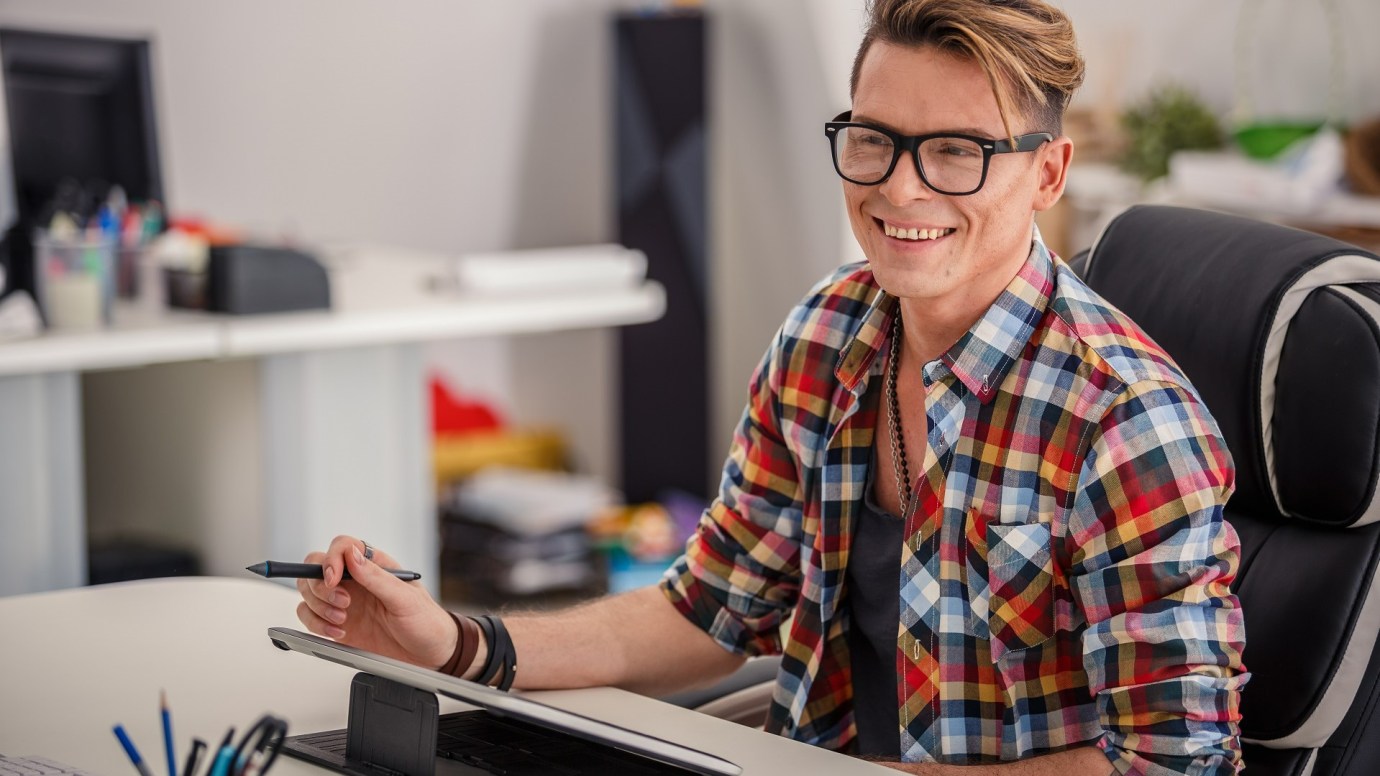 Visuals are a powerful tool of communication used by brands to convey a message and connect with audiences. Be it the cover photo of a website, the logo of a brand or the creative infographics of a social media post, nearly every brand in the 21st century will have used some form of a visual to grab the attention of their customer base.
The increased interest in this area has, in turn, created an upsurge of viscom jobs. As more companies focus on boosting the visual presence of their brand, visual communication jobs will continue to rise.
Visual communication careers are varied in their daily responsibilities so it's therefore important to understand the different job profiles before launching your career in this field.
Visual Communication in 2022
Visual communication uses art and technology to create enticing content for numerous platforms. Be it fashion, social media or even advertising, each one relies on visual content to reach out to the right audience.
In today's digitally advanced world, every sector is involved in the visual landscape as more and more brands try to find new ways to connect to customers.
Technological advancements are also impacting the field of visual communication as brands are more keen to showcase automation, robotics, A.I., cybersport and more. Visualising such complex topics will be the need of the hour for designers and artists.
Jobs in visual communication
Viscom offers several career choices ranging from motion designer to video director and even web and app designer.
If you are gifted with a creative flare and are passionate about pursuing a career that is innovative and exciting, then all you need is a master in visual communication to become applicable for the following job roles:
UI/UX Designer is a well-known job profile in the field of visual communication where you will be required to design graphic elements. Core responsibilities include designing and implementing navigation components that improve a user's experience of any digital tool. This includes creating smooth and easy to use style guides, design systems and attractive user interfaces.
Cartoonist work in the multimedia and animation field where they use their drawing, design and artistic skills to create beautiful and captivating content. This includes animated films, creative visuals, comic strips and more. Several movie studios, magazines and other media houses employ cartoonists. You can also work as a freelancer in this profession.
A VFX Artist is someone who brings imagination to life, literally. They design digitally generated imagery for several platforms be it movies, console gaming or television. To make things like superheroes, aliens, dragons and more look life-like, they make use of latest technology, object and lighting manipulation and even other elements like fire and fluid.
The job of an advertising photographer requires taking photographs as per an employer's or client's specifications. In this job role, you must have a good understanding of film as well as digital media. You will be required to take pictures of a variety of subjects to create a varied range of promotional materials.
As an animator, you will be working with many creative professionals ranging from voice actors to storytellers for platforms like video games, commercials to even films. Core job of an animator is to create a series of images which in the visual world is called frames. The purpose of these frames is to simulate movement. You will also have a range of other responsibilities such as conceptualizing new ideas, developing storyboards, creating character sketches as per the design brief and more.
Instructional designers use their skills in design and technology to design new learning models and create educational podcasts, videos and content. Along with creating new learning courses and material, you will also be asked to revamp the existing ones.
Amongst the most popular roles in the visual communication landscape is that of a web designer. The core job in this profile is to design, build and improve websites using a mixture of creative and programming skills. As a web designer you will work to improve user experience by building websites that are easy to understand and navigate.
Visual Communication Designer
As a visual designer, you are required to create mobile and web products that are functional and also visually engaging. For this, you have to develop innovative ideas and conceptualise them. You are responsible for creative assets and have to see them through from beginning to end, that covers everything from generating the idea to designing it.
Another very popular and sought-after job profile in visual communication is that of a graphic artist/ designer. Your responsibilities will center on creating the visual aspects of certain products, books, website, exhibitions and more. The graphics you design should capture the attention of the customers and communicate the brand's message effectively.
Remuneration offered in visual communication
The salary offered in visual communication varies according to the job profile but on the whole, it is a relatively lucrative field. For example, as a web designer you can earn on an average €39,245 per year in Berlin. An animator would make around €3,192 monthly in Germany while an event manager would earn €40,544 per year in Berlin.
Looking to embark on a successful career in the field of visual communication? Check out the MA Visual Communication offered by the Berlin School of Business and Innovation (BSBI). The programme is designed to strengthen your design skills in order to significantly enhance your portfolio. This master's programme offers studio-based learning, allowing you to collaborate with other members of the creative community. To know more about the programme and BSBI, click here
FAQs
Q. Why should I study visual communication by BSBI?
This programme will equip you with the skills needed to pursue a variety of exciting job opportunities. It will enhance your investigative and research skills while sharpening your creative finesse. You will receive continuous support from the experts at BSBI who will guide you to developing concise proposals and solutions in a variety of visual communication fields.
Q. What is the scope of this sector?
Visual communication has been a stable career field and will continue to do so in future. The digital age has created a huge demand for professional experts in this sector and hence there are many job opportunities that you can avail. In many job roles like that of an animator, graphic designer or even web designer, you can even choose to freelance.
Interested in boosting your career potential in visual communication? Learn about our master's programme in Hamburg!