BSBI Provost & Chief Academic Officer receives prestigious 'Outstanding Leadership Award'
Professor Dr Kyriakos Kouveliotis, Provost and Chief Academic Offer at Berlin School of Business and Innovation, has been honoured with the "Education 2.0 – Outstanding Leadership Award" for his exceptional contributions to the field of education.
The 2023 awarding ceremony was held at the Education 2.0 Conference Dubai on 19 to 21 June 2023 at the InterContinental, Dubai Festival City. This prestigious award recognizes leaders who have made significant contributions to advancing education through innovative and impactful strategies. All shortlisted nominees were judged and assessed in five categories: Leader's Reputation, Achievements & Accolades, Professional Experience, Creative Thinking and Decisive Leadership. Professor Dr Kyriakos' remarkable achievements earned him the highest score across all categories. 
Commenting on the award, Professor Dr Kyriakos said: "I am humbled and grateful for this recognition, which reinforces our continuous commitment to pushing the boundaries of education and fostering a community of future-ready leaders. This award is a testament of the hard work and dedication of the entire BSBI community."
Professor Dr Kyriakos was recognised for implementing a number of initiatives that have had a significant impact on the institution and the broader education community. He has spearheaded the development of a cutting-edge curriculum that combines academic rigor with practical experience, providing students with the skills and knowledge they need to succeed in today's competitive job market.
We congratulate Professor Dr Kyriakos on this well-deserved recognition.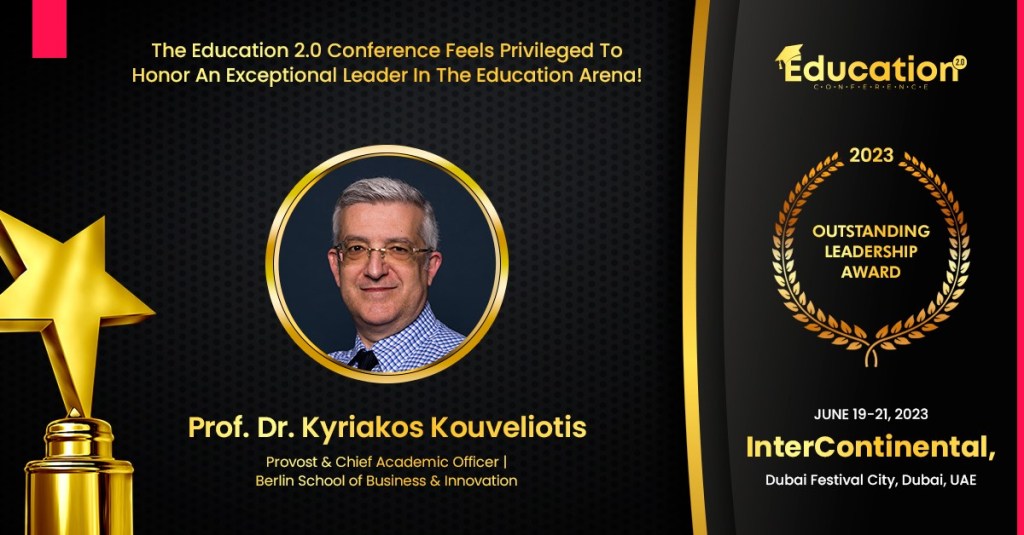 The Education 2.0 Conference, 'Uniting Changemakers To Revolutionize Education,' a gathering of leading educators and experts from around the world, took place in Dubai, one of the world's most vibrant cities known for its commitment to educational excellence. The event provided a forum for dynamic educational professionals to exchange ideas, showcase innovative practices, and investigate cutting-edge technology that will shape the future of education.