BSBI Hosted fifth Cafe Scientifique Event
On 4 June 2021, Berlin School of Business and Innovation hosted its fifth Café Scientifique. The topic for the event was surrounding AI in Business and featured four external speakers and three internal speakers.
The panel of external speakers included:
Anudeep Sri Bathina – Head of Insights and Data at Capgemini for Cloud Data Platform, Microsoft Azure, Bigdata and Machine Learning
Cheryl Miller Van Dÿck, Director of the Digital Leadership Institute, Head of EU Delegation, G20 Women 20 and President Women Entrepreneurship Platform
Andrés Contreras Guillén – Serial Entrepreneur | Artificial Intelligence | Big Data | Cloud Computing | Media & Entertainment | International Speaker | Independent Technology Consultant
Rahul Lodhe, Senior Director SAP for Artificial Intelligence Technology Bangalore Urban
The panel of internal speakers:
Katherine Boxall – Head of BSBI Postgraduate Studies
Prof. Dr. Kyriakos Kouveliotis, Provost and Chief Academic Officer at BSBI
Anastasia Kiritsi, PHDc University Lecturer at BSBI and Cafe Scientifique coordinator
Event was organised and hosted by Anastasia Kiritsi.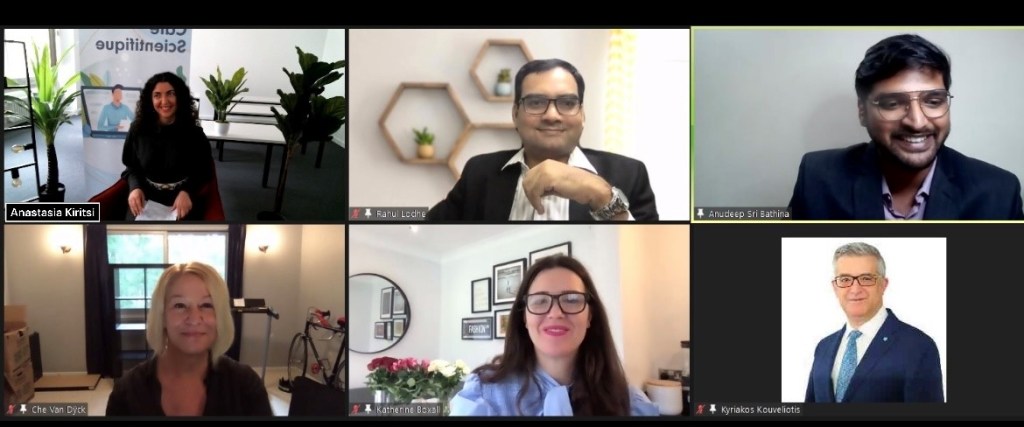 Our speakers on ZOOM call for event!