BSBI holds winter graduation ceremony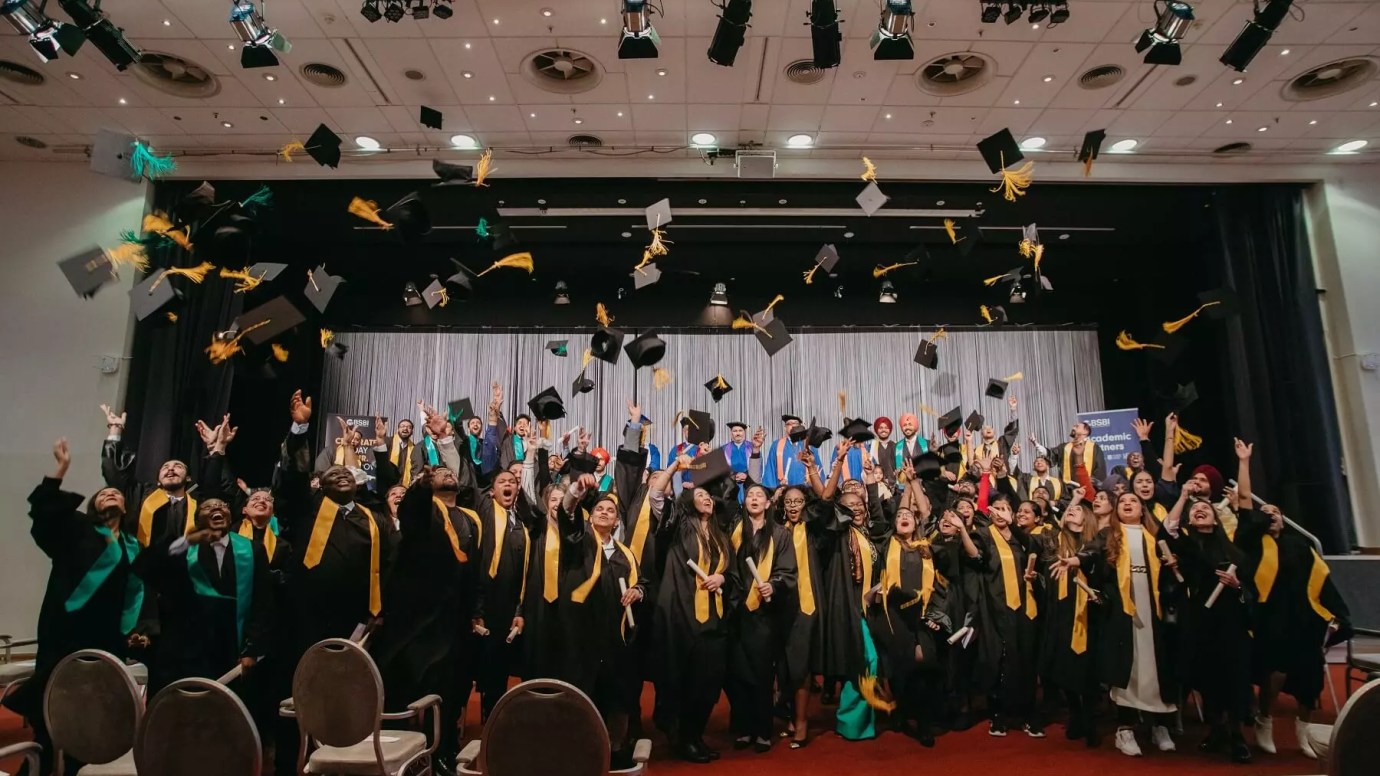 On Monday 30 January, Berlin School of Business and Innovation hosted its winter graduation ceremony, which recognised the academic achievements of more than 80 students.
Around 80 graduates from all over the world took part in the ceremony held at Estrel Centre in Berlin, with others attending online via a YouTube livestream. Families and friends of around 50 students were also present to share this important moment with the students and celebrate their success. This was a very significant event in the history of BSBI as students from three universities, University of Creative Arts, Concordia University of Chicago, and International Telematic University UNINETTUNO, joined the global alumni network.
Addressing all the graduates and guests, Professor Dr. Kyriakos Kouveliotis, Provost and Chief Academic Officer, congratulated the graduates and shared an inspirational phrase from Winston Churchill:"Completing your graduation is not the end, but it is the beginning to a wonderful career to achieve many more things in life". He further urged the graduates to face the new challenges coming in front of them using the knowledge and skills learned at BSBI, be the innovators and disruptors, and gain new experiences in life.
Ms Pousali Palui, who graduated from Global MBA programme and is a former student council president of post graduate students gave the student graduation address. Ms Palui shared her experience in Berlin and with BSBI. She also explained how the BSBI's multi-cultural and diverse community, experienced academic faculty, supportive staff members, and the infrastructure at BSBI helped her during her study days.
Sagi Hartov, Co-Founder and Executive Chairman, delivered inspirational speeches to the graduates as they talked about the legacy of BSBI and the journey they had been on with the school.
The event featured the keynote address from Professor Dr. Ioannis Liritzis, Dean of Class IV (Natural Sciences), the European Academy of Sciences and Arts, Salzburg. He said: "I would like to congratulate all the students for this great achievement. The support of family and friends made an enormous impact on the journey of the graduates. This will help the graduates in preparing for the next steps in their life".
Prof Liritzis further stated how hard work and perseverance can help the graduates in the long run. He gave valuable tips from his own experience and knowledge on how to handle oneself during hard times to build a promising future.
BSBI students celebrating at Estrel Center in Berlin.
Academic and management team at the winter graduation day 2023 event
Watch the recording of the ceremony
A proud BSBI graduate with her degree certificate
Group of Bachelor programme graduates with the Head of Undergraduate Programmes, Dr. Anastasios Fountis