GGG Autumn Career Fair 2023
Event Details
Host: Careers Service teams of BSBI, GISMA and UE
Venue: Alte Post, Karl-Marx-Straße 97-99, 12043 Berlin
Time: 14:00 Europe/Berlin
Date: 09 November 2023
Click here to know more
This is the second career fair that BSBI organises in cooperation with GISMA and UE University. The combined number of students at all three institutions is more than 12,000.
The BSBI Careers Service Team would like to invite all BSBI students and recent graduates to this exciting event which brings major Berlin and Germany-based companies, offering internships, and student and graduate jobs, directly to their campus.
The organisations that have confirmed their attendance at the GGG Autumn Fair so far are the following:
Adobe / AISEC / Allianz / Aroundtown / GCP / Booty Therapy / Bundesagentur für Arbeit / Codressing / Crowne Plaza Hotel / DAK / DemoUp Cliplister / Deutsche Bank / Doctolib / eBay / European Insurance & Services / Everphone / Expatino / Fintiba / Formlabs / Integration Works / Kempinski Hotels / Management Events / Masterplan / Meet / MotionLab / Otoqi / Personio / Phaidon International / Plantclub / Viva Berlin (Powerstories) / SAP / SPORTFIVE / The Social  Hub / Vinted / Wayfair Deutschland / Xsolla / Zalando 
Coordinators:
Michael Ferenc, Career Services Manager, BSBI
Annemarie Loeters, Senior Advisor Career Development at UE
Eloise Capet, Head of the Career Centre, GISMA
Other Services: cloakroom, CV/LinkedIn individual photo shoots, on-site CV checks
No registration is required. Participants can arrive any time between 2pm and 4:30pm. No lectures or seminars will take place on this day at BSBI.
Attendance for all BSBI, GISMA, and UE students and recent graduates is free of charge. All participants are advised to bring their student ID card with them. The recommended dress code is Business Casual (no winter wear will be allowed upstairs).
[The timetable of presentations and a full list of visiting organisations may be subject to change and is regularly updated on the BSBI JobTeaser]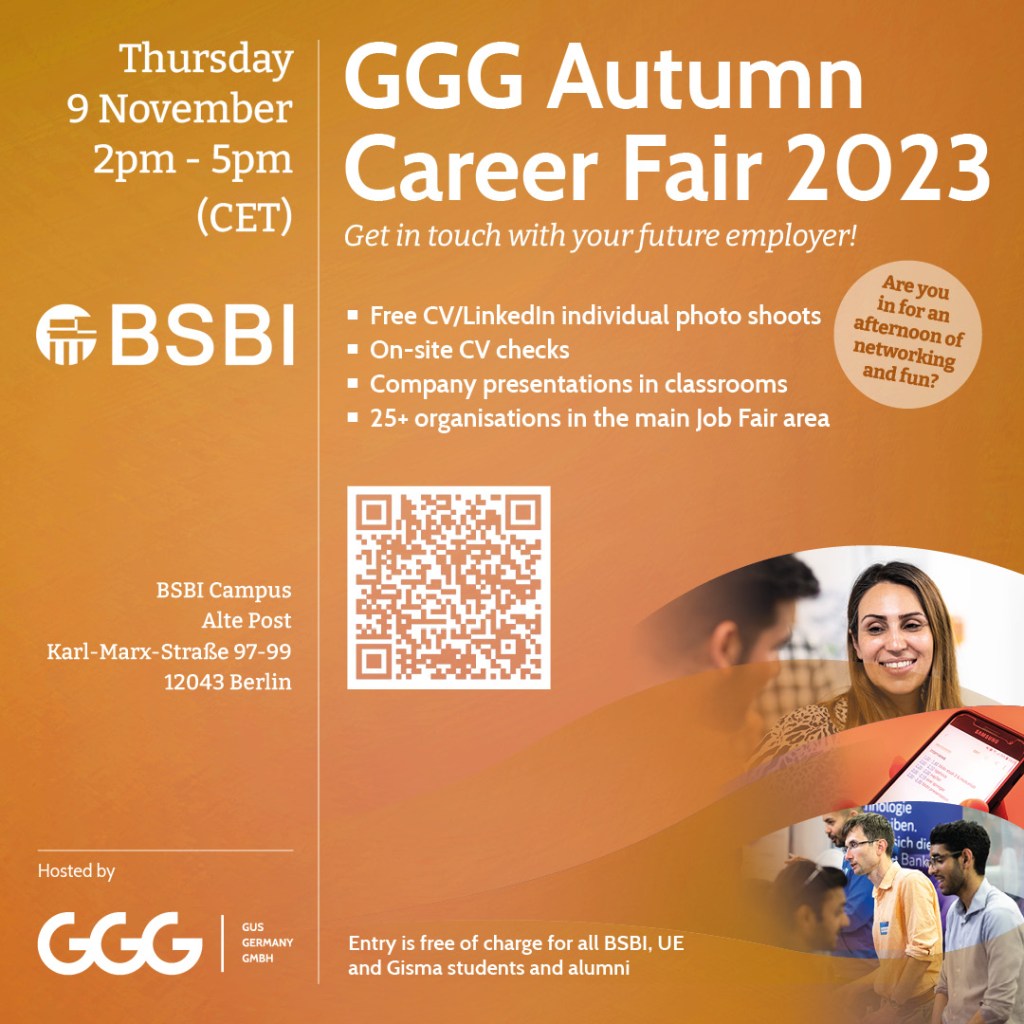 For more details, please contact us by email at careerservice@berlinsbi.com or by telephone on 49 30 235 945 873 and we will be happy to answer your questions. 
You can also watch a video of the previous edition of the Fair here: