7 green spaces to visit in Berlin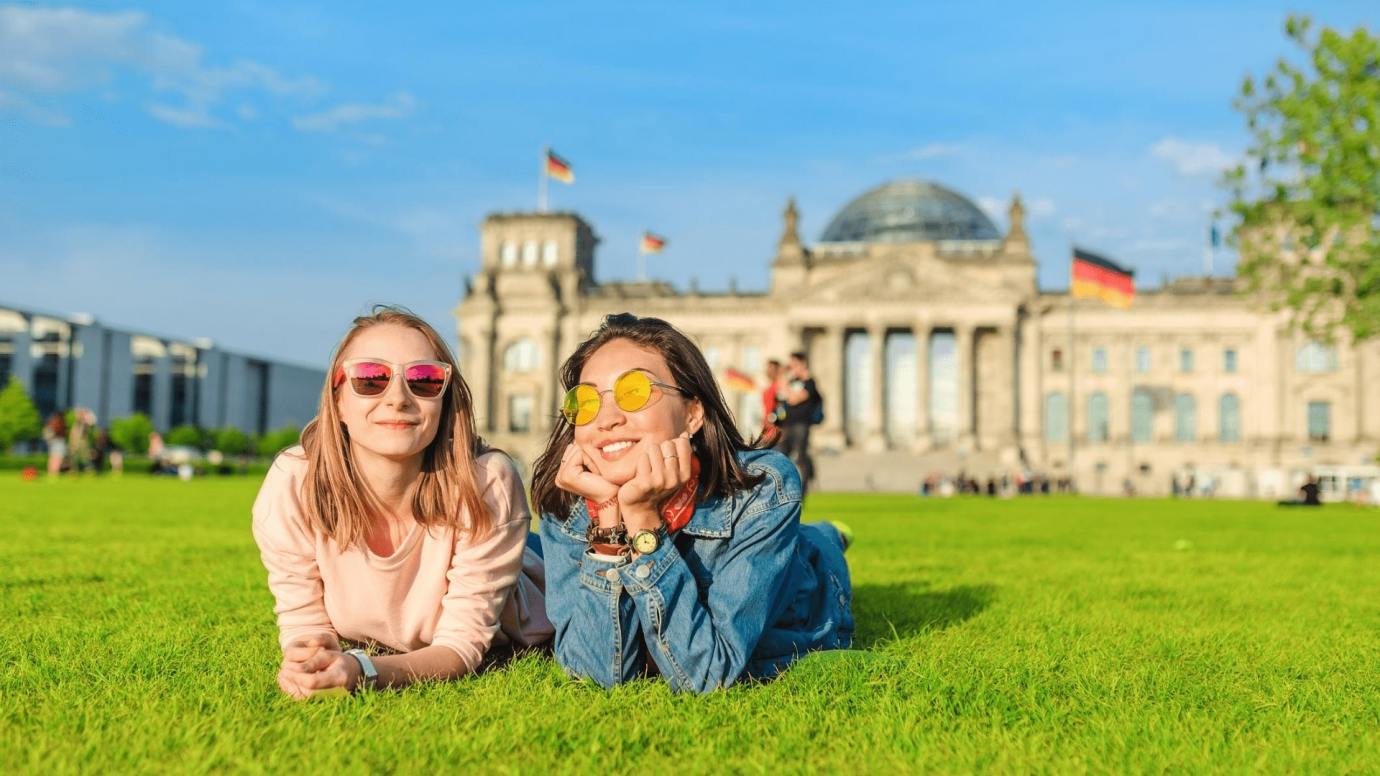 There are many beautiful parks in Berlin where you can spend an afternoon relaxing, cycling and even swimming. Parks and gardens are also a great place to meet friends, particularly while we're still expected to observe social distancing.
Tiergarten
The Tiergarten is one of the top gardens in Berlin and has often been likened to Central Park in New York. Located near the Brandenburg Gate, the Tiergarten is probably the best place to enjoy a picnic, particularly if you're spending the day exploring central Berlin.
In the park you'll find the Berlin Zoo as well as a Soviet war memorial. Interestingly, the park experienced significant damage during the Second World War which encouraged Berliners to hide many of the statues in the park near the Bellevue Palace. These were not recovered until 1993.
Treptower Park
Another one of the nice parks in Berlin is Treptower Park. Located south of central Berlin, this green space attracts tourists and Berliners every day. The park is the perfect location to spend an afternoon with numerous spots for picnics as well as walking and cycling routes. To the south of the park, there is a small lake for swimming in or relaxing by.
The park is also home to an abandoned amusement park, Spreepark. In 1991, the park was taken over by Norbert Witte, a German showman. The park was closed in 2002 after attracting a low number of customers and due to revelations that Witte had been smuggling drugs into Germany from Peru using parts of the rides.
Botanical Garden Berlin
There are many gardens in Berlin but none quite like the Botanical Garden Berlin. Home to an arboretum, an old greenhouse and a museum, the Botanical Garden Berlin is a great place to explore some of Berlin's history and learn more about botany. We particularly recommend the Botanical Museum which has plants that date back to the Ancient Egyptians!
Volkspark Friedrichshain
Volkspark Friedrichshain is the oldest public park in Berlin and is located in central Berlin. A top attraction in the park includes the Fairy Tale Fountain which was added to the park in 1913 and contains 106 sculptures of German fairy tale characters. The fountain was constructed during an endemic of rickets and typhoid among the children of Berlin and so is dedicated to them. The park also includes a peace bell which was donated by the Japanese as a symbol of unity against nuclear war.
There are ample opportunities to get active in this green space with a sports complex that includes rock climbing and beach volleyball located in the premises.
Kornerpark Berlin
The Kornerpark has an interesting history. During construction work in 1912, a rider and his horse were found buried in a tomb. The artefacts were dated back to between the 5th and 6th century. Other articles found included a leather belt and bronze nails.
Today however, the park is home to cafes and a range of temporary exhibitions rather than any ancient artefacts. During the summer months, the grounds are used for free concerts so if you're looking for something to do on a warm evening in August, get down to the Kornerpark!
Grunewald Forest
Grunewald is the national forest of Berlin and the largest green area in the city. You'll find many historical buildings in the forest including a 19th century lookout towers, the oldest palace in Berlin and a Renaissance hunting lodge. It makes for an excellent day out for explorers.
Ceciliengarten
Ceciliengarten is a housing estate that was constructed in the 1920s. Situated in the Tempelhof-Schoneberg direct of Berlin, Ceciliengarten has many green areas and Art Nouveau designs (this style is characterised by floral decorations and lots of curved lines). The garden also contains statues to look at and a beautiful water fountain to get pictures by.
Do you have a favourite green space in Berlin? Let us know by sending pictures to one of our social media accounts.
Twitter: @berlinsbi
Facebook: @berlinsbi
Instagram: @berlinsbi
LinkedIn: Berlin School of Business and Innovation (BSBI)