BSBI Future Lab | The Final Pitch for D-Ticket
Event Details
Host: Dr. Gemma Vallet, Lecturer
Venue: Alte Post Cafeteria, Berlin Campus
Time: 15:00 Europe/Berlin
Date: 11 October 2023
Register here
AN EXCLUSIVE INVITATION TO EXPERIENCE A REAL ADVERTISING CAMPAIGN PITCH
Join this unique experience and witness the pitching to be part of a broad national real campaign for what is a household brand name in Germany.
Get your exclusive invitation. This event has limited capacity.
Reminder: Please be guided by the Code of Conduct for BSBI Events
The 1st BSBI FUTURE LAB Challenge: ARTIFICIAL INTELLIGENCE AT THE CENTRE OF CREATIVITY AND STRATEGY
AI is at the core of the final presentations that will enter into the final. The participants are finding new and clever ways of experimenting with AI. However, the use of AI is not the same as having creative strategic ideas. AI can assist in many tasks, but human creativity and strategic thinking remain essential for innovation and problem-solving. And that is the challenge the teams have risen to.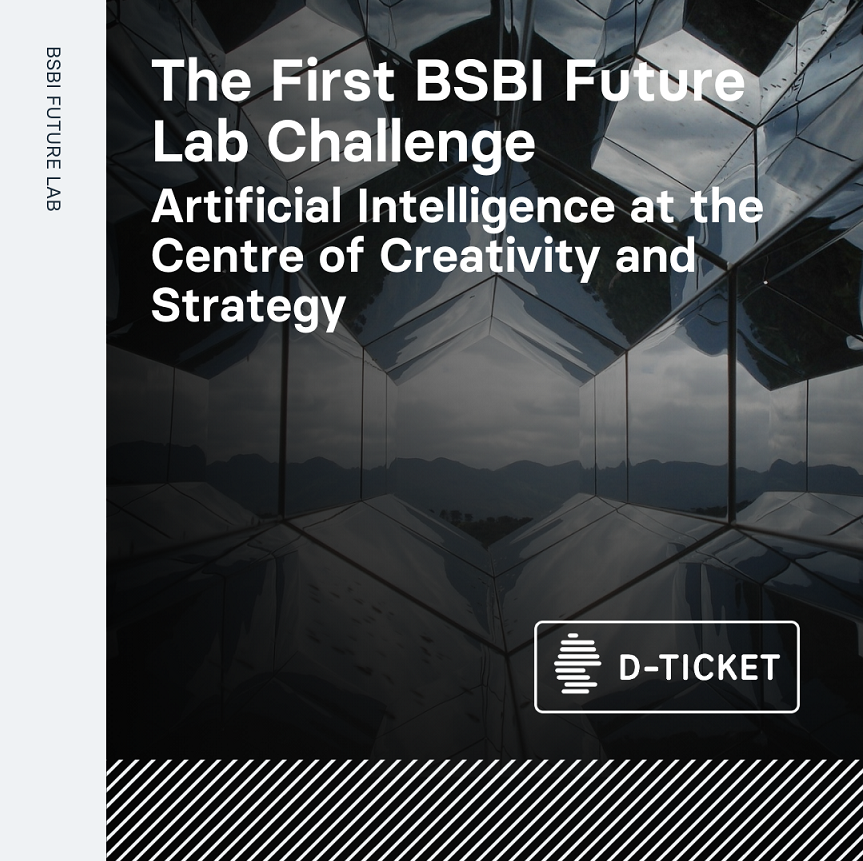 THE STARTING POINT
On 30 September 2023, after three intensive workshops and long hours working on their ideas for the Winter marketing campaign for D-TICKET, participants of BSBI Future Lab Challenge are now ready to defend their ideas on 11 October, the day of the final pitch.
Five teams will pitch their marketing campaigns to an expert jury consisting of selected members of the D-TICKET marketing team and BSBI marketing and business experts. A real challenge for a real challenger brand. 
In September, more than 20 students of 7 teams will work at delivering their best-in-class ideas and pitch to be part of the D-TICKET national campaign.
The campaign will be launched in main media around Germany this winter 2023.
BSBI Future Lab started on the 16th of September 2023 led and organised by Dr Gemma Vallet, a BSBI Global Digital Marketing Lecturer, former Innovation Director of PHD Media Omnicom Group and CMO of well-known eCommerces in Europe.
DIVERSITY DRIVES FUTURE CREATIVITY IN ADVERTISING AND MARKETING
The BSBI Future Lab challenge 1st edition is a diverse gathering of talented BSBI students and experts from ten nationalities: Austria, India, Italy, Iran, Nigeria, Russia, Spain, Syria, Turkey and Zambia.
In the coming years diversity will be shaping creativity for brands such as D-TICKET that are both sustainable and challenging. BSBI Future Lab aims to be a hub to link this new talented generation of marketing strategists, advertising and content creatives with brands that want to make a real positive impact.