Global MBA
The Global MBA focuses on developing an individual's business skills and preparing them for working in an international environment. By pursuing a Global MBA, students learn to seek out business opportunities across the globe and the ability to manage the complexities involved.
Start application online
NEW! BSBI's MBA Alumni can now continue their education and earn a degree in MSc in International Business & Management in 6 months. The degree is awarded by the University of Europe for Applied Sciences (UE). Learn more.
Overview

To remain internationally-orientated, Berlin School of Business and Innovation (BSBI) cooperates with International Telematic University UNINETTUNO, a distance teaching university recognised by the Ministry of Education, University and Research in Italy.
BSBI is also in partnership with CETT, a leading higher education school in tourism, hospitality and gastronomy. This programme is accredited by UNINETTUNO and taught at CETT`s campus in Barcelona, so students can live in Barcelona, one of the most beautiful cities in Europe, while continuing to progress in their career goals.
Designed for ambitious individuals who are passionate about creating and running their own organisations, the Global MBA programme will help you to develop transferable skills that can be applied in a number of different industries whilst building your knowledge of the challenges facing the international business environment.
Additionally, you will choose an elective pathway to help you to tailor your degree to meet your career goals.


SECURE YOUR PLACE ON THIS PROGRAMME BY APPLYING TODAY.
FIND OUT HOW TO APPLY HERE
What will you experience?
Throughout the Global MBA programme, you'll develop your understanding of essential management topics including marketing, finance, operations and leadership. You'll also be able to pick an elective subject to steer your degree towards your chosen career path which is ideal if you're considering taking a leadership role in project management, HR management or if you want to establish your own business.
Each of our modules covers the latest trends and techniques to reflect the evolving nature of the global business environment. Whilst studying, you'll learn through a practical and interactive teaching approach whilst discussing new concepts with your tutors and classmates. You'll also learn how theories are applied in practice, including through an internship.
The course is delivered on campus with full access to state-of-the art facilities. Students will also have additional access to course and reading materials via the UNINETTUNO platform.
Why study this course?
This master's degree is tailored to develop management and leadership skills according to your specific career ambitions. You will acquire the most relevant and up-to-date know-how and competencies to increase your employability and boost your career, enabling you to move on to more senior positions in your field of choice.
European Credit Transfer and Accumulation System (ECTS)
You will earn a master's degree with 90 ECTS. This helps student mobility in the EU when it comes to transferring credits from one higher education institution to another.
Course Price
INTAKES:
Barcelona: 2023 November (English), 2024 April & November (English and Spanish)
2023 November: €13,500
2024 April: €13,500
2024 November: €14,150
Special launch offer: Up to 40% off your fees** until December 2023
**Terms and conditions apply. Find out more here.
The School's admissions process is subject to the Consumer Contracts (Terms and Conditions). Information on your Right of Withdrawal and our Refund Policy can be found in the BSBI stud
Programme Structure
Throughout the first and second terms you will learn about key business topics including: accounting and managerial finance, systems and operations management and the various aspects of marketing. In your third term, you will select a specific pathway to help you tailor the programme to your career goals. The programme will end after your fourth term with a dissertation on a topic of your choice. The pathway will be offered if the minimum class size of 15 students is met to ensure a good academic experience.
You will also be able to attend modules on academic research methods alongside your master's degree subjects. During your final term, you will research and prepare a dissertation on a topic of your choice.
The modules of this programme are offered and delivered on campus. Students will also have additional access to course and reading materials via the UNINETTUNO platform.
MODULES
Marketing and Business Environment 
Accounting and Managerial Finance 
Systems and Operations Management
Strategic Management and Leadership
Research Methods and Dissertation
PATHWAY ONE – ENTREPRENEURSHIP
Entrepreneurial Business Management
Innovation and Product Development
PATHWAY TWO – PROJECT MANAGEMENT
Project Management and Leadership
Cross-Cultural Management
PATHWAY THREE – HR MANAGEMENT
Human Capital Management
Cross-Cultural Management
PATHWAY FOUR – MARKETING MANAGEMENT
Module 1: Global Marketing Management
Module 2: Digital Marketing Communications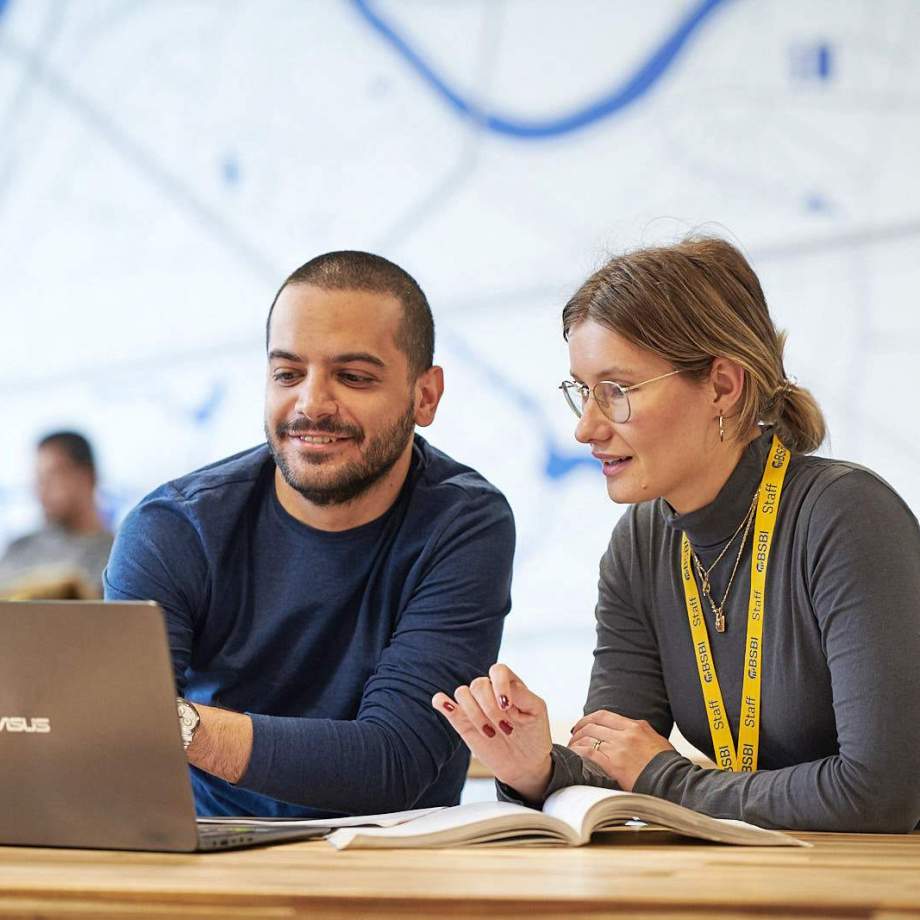 Learning Outcomes of Global MBA Degree
Graduates will be able to:
Develop innovative approaches to solve professional problems
Critically reflect on their efficiency to solve a range of issues
Effectively communicate with teams and colleagues on different types of media
Identify appropriate leadership styles for different situations
Successfully manage and motivate people
Manage activities and operations
Engage effectively with stakeholders
Download Factsheet
Career Progression
There are a number of opportunities a graduate with a Global MBA degree could consider pursuing ranging from consultant level roles all the way through to managerial roles and directorships.
Roles include international trade policy advisor, global management consultant, international sales manager, business development manager and global marketing manager. 
BSBI's dedicated Careers Service helps Global MBA students and alumni reach their career goals and realise their potential. The Service offers specialised support and aims to build long-lasting relationships with local and national employers. To find out more about the support available, visit the Careers Service website.
Earn a second degree with

The University of Europe for Applied Sciences (UE), in partnership with the Berlin School of Business and Innovation, is offering the opportunity to enrich your professional experience and degree qualification with this new programme. 
MSc in International Business & Management Top Up Degree
Leveraging the strong strategic alliances as members of the largest university network, Global University Systems, BSBI and UE are collaborating to provide a new access to UE's MSc in International Business & Management degree.
This top-up semester is tailored to students looking to advance their qualifications in quantitative and qualitative research design, modelling and techniques. With the BSBI MBA degree, and the MSc in International Business & Management top-up, participants will be optimally prepared for a management position at international level. 
Upon completion of the modules which include writing a master thesis, UE will award students the MSc in International Business & Management degree.